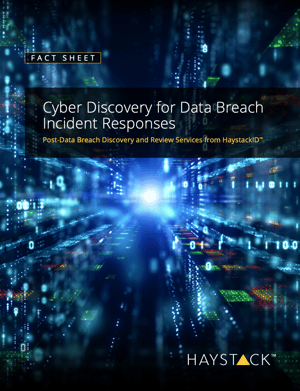 Cyber Discovery for Data Breach Incident Responses
Any organization dependent on technology to operate its enterprise runs the risk of experiencing a data breach. From determining a known breach to complying with post-breach legal, regulatory, and business reporting and notification requirements, organizations must quickly implement and comprehensively execute incident response plans to reduce exposure and risk.
A critical component of a data breach incident response plan includes how an organization discovers and reviews potentially compromised data to determine the scope of the breach, the volume of data at risk, and the specific or sensitive data requiring reporting or notification action.
HaystackID can help cyber insurers and their clients with this critical component of response plans with our ReviewRight ProtectTM service for post-data breach discovery and review.
Request access now to learn: 
How HaystackID can help insurers and their clients to better understand and address data breach-associated cyber risks.

How a combination of data discovery and legal discovery approaches uncover the insight and intelligence necessary to respond to cybersecurity challenges.

How HaystackID's extensive post-data breach discovery and review solution helps address four specific data breach challenges.
Get your complete PDF copy to an in-depth overview of post-data breach incident response considerations and HaystackID's cyber discovery and review services.
HaystackID is a specialized eDiscovery services firm that helps corporations and law firms securely find, understand, and learn from data when facing complex, data-intensive investigations and litigation. HaystackID mobilizes industry-leading cyber discovery services, enterprise managed solutions, and legal discovery offerings to serve more than 500 of the world's leading corporations and law firms in North America and Europe.
Cyber Discovery for Data Breach Incident Responses, Published 3 June 2021, By HaystackID