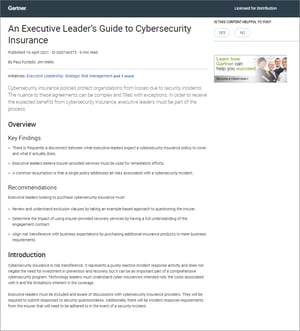 Gartner Report:

An Executive Leader's Guide to Cybersecurity Insurance
As per Gartner, "Cybersecurity insurance policies protect organizations from losses due to security incidents. The nuance to these agreements can be complex and filled with exceptions. In order to receive the expected benefits from cybersecurity insurance, executive leaders must be part of the process." When leaders need to understand and address post-data breach and review requirements during cybersecurity insurance planning, HaystackID™ Cyber Discovery offerings can help by providing a balance of discovery technology, incident response expertise, and cyber discovery and review experience.
The recent research report titled An Executive Leader's Guide to Cybersecurity Insurance from Gartner provides executive leaders with information and insight that may help in consideration of cybersecurity coverage to include expectations and example exclusions.
We believe you can read the complimentary report from Gartner to learn: 
"The importance of reviewing and understanding exclusion clauses by taking an example-based approach to questioning insurers."

"Approaches to determine the impact of using insurer-provided recovery services by having a complete understanding of engagement contracts."

"The need to align risk transference with business expectations by purchasing additional insurance products to meet business requirements."
Get your complimentary access to the in-depth guide on cybersecurity insurance now.
GARTNER is a registered trademark and service mark of Gartner, Inc. and/or its affiliates in the U.S. and internationally and is used herein with permission. All rights reserved.
Gartner, An Executive Leader's Guide to Cybersecurity Insurance, By Analysts Paul Furtado and Jim Mello, Published 16 April 2021