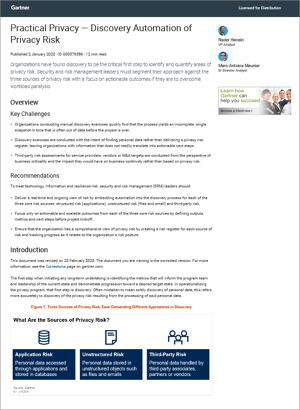 Gartner Report: Practical Privacy – Discovery Automation of Privacy Risk
As per Gartner "Organizations have found discovery to be the critical first step to identify and quantify areas of privacy risk. Security and risk management leaders must segment their approach against the three sources of privacy risk with a focus on actionable outcomes if they are to overcome workload paralysis." When organizations need to understand and manage privacy risk through automation, HaystackID™ and our Enterprise Managed Solutions can help by blending state-of-the-art technology platforms with sophisticated workflow and curated reporting tools to address the challenges of privacy risk.
The recent research report titled Practical Privacy – Discovery Automation of Privacy Risk from Gartner provides security and risk management leaders with information and insight that may help in the development of an operationalized privacy program.
We believe you can read the complimentary report from Gartner to learn: 
How to deliver a real-time and ongoing view of risk by embedding automation into the discovery process for each of the three core risk sources: structured risk (applications), unstructured risk (files and email) and third-party risk.

How to focus only on actionable and scalable outcomes from each of the three core risk sources by defining outputs, metrics and next steps before project kickoff.

How to ensure that the organization has a comprehensive view of privacy risk by creating a risk register for each source of risk and tracking progress as it relates to the organization's risk posture.
Get your complimentary access to the in-depth overview of discovery automation of privacy risks now.
GARTNER is a registered trademark and service mark of Gartner, Inc. and/or its affiliates in the U.S. and internationally and is used herein with permission. All rights reserved.
Gartner Practical Privacy – Discovery Automation of Privacy Risk, Published 2 January 2020, By Analysts Nader Henein and Marc-Antoine Meunier